10. Cate Blanchett
Cate Blanchett is an Australian-American actress, producer, and theatrical director who was born on May 14, 1969. She is regarded as one of the most talented actors of her time. Among other awards, she received two Academy Awards, three Golden Globe Awards, three British Academy Film Awards, and three Screen Actors Guild Awards. Cate is an accomplished and well-known actress. Cate, an actress from Australia, is also a hard worker. Cate is a National Institute of Dramatic Art graduate. Shortly after that, she began acting on the Australian theatre stage. She gained international recognition for her role in the drama picture Elizabeth (1998). She won the Golden Globe and BAFTA Award for Best Actress for this picture, as well as her first of seven Academy Award nominations. Her portrayal of Audrey Hepburn in Martin Scorsese's film earned her the Academy Award for Best Supporting Actress.
9. Miranda Kerr
Miranda Kerr is an Australian actress, model, and entrepreneur who works largely in modeling and movies. Aussie beauty Kerr was born in Sydney, New South Wales, Australia, on April 20, 1983. Kerr began modeling when she was 13 years old in the fashion industry in 1996. In 1997, she won the Dolly magazine model search competition. She is one of Australia's most attractive actresses. She is one of the highest-paid models in the acting industry. According to Forbes' list of highest-earning models, she has been on the list since 2008.
8. Naomi Watts
Naomi Watts' full name is Naomi Ellan Watts, and she is a British and Australian actress and film producer. In 1986, she made her acting debut in the Australian drama film For Love Alone, followed by the 1990 television series Hey Dad…! Ellie Parker, a short film she produced in 2001. Naomi Watts is an Australian actress who was born in Shoreham, Kent, England on September 28, 1968, to Peter Watts and Myfanwy Edwards. She has one older brother, Ben Watts. Naomi Watts' husband is Liev Schreiber; they married in 2005 and divorced in 2016. Her lovely blonde hair complements her beauty.
7. Nicole Kidman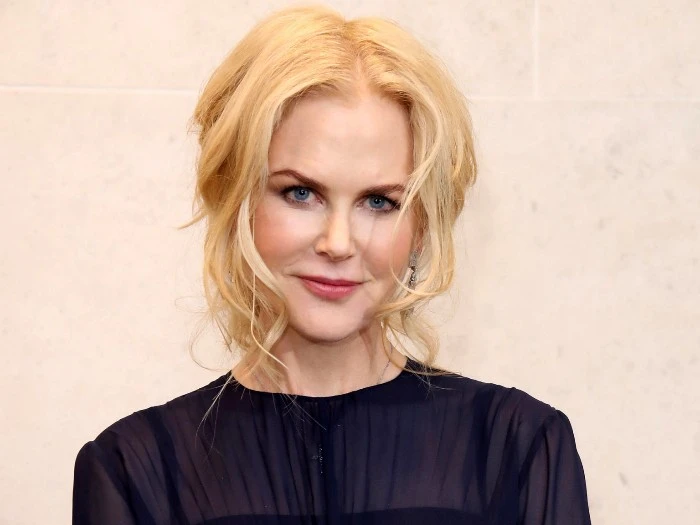 Nicole Kidman is an Australian actress, producer, singer, and model who was born in the United States. She is largely known for her work in Australian and Hollywood films, She was born on June 20, 1967, in Honolulu, Hawaii, USA. She is one of Hollywood's most well-known Australian actresses. Her captivating personality will leave you speechless.
6. Teresa Palmer
Teresa Palmer is an actress, model, film producer, and writer from Australia. In 2005, she made her acting debut in the film Wolf Creek. Teresa Palmer's film credits include Warm Bodies, Lights Out, Hacksaw Ridge, and Berin Syndrome. With her husband, she also co-produced and co-wrote the film The Ever After. Teresa Palmer was born in Adelaide, South Australia, on February 26, 1986, to Kevin Palmer and Paula Sanders. There are two stepsisters and two steps brothers in her family. Palmer and Mark Sander married in 2013 and have four children together. Teresa Palmer stands at 5.5 feet tall, weighs 58 kilograms, and has blonde hair. She is definitely worth all the attention.
5. Margot Robbie
Margot Robbie is the most well-known Australian actress in both Hollywood and Australia. The 'Suicide Squad' actress has also been added to the list of the world's Most Beautiful Actresses. You won't be able to take your gaze away from Margot Robbie on the big screen, whether you're a leading woman or a leading villain. You may have adored her in Suicide Squad, but even the worst makeup couldn't cover her inherent beauty! Margot Elise Robbie was born to a Scottish mother and father in Australia. Robbie was nominated for two Logie Awards for her performance as Donna Freedman in the long-running Australian cleaning soap opera Neighbours (1985). She came to the United States to pursue acting possibilities, obtaining the role of Laura Cameron in the ABC series Pan Am (2011) and her big-screen debut in the film About Tinr (2013). Robbie rose to prominence after playing alongside Leonardo DiCaprio in the film Wolf of Wall Street. There isn't any more turning after that. The Australian actress gained her name like Harley Quinn in two DC films, which made her a fan favorite.
4. Rose Byrne
Byrne is regarded as one of the most beautiful women in the world. She was ranked 9th and 16th in FHM's "Sexiest Women in the World" in Australia. Rose Byrne is the complete deal, with her girl next door charm and impeccable comedic timing. This versatile Australian starred in the TV series Damages before moving on to bigger roles in films like X-Men and Neighbors. Check out her hilarious performances in Bridesmaids and Get Him to the Greek with Russell Brand. Rose has two sons with Bobby Cannavale and has worked with UNICEF and drama foundations to round out her life.
3. Toni Collette
Toni Collette has an effortless beauty and flawlessness. Her cheekbones and face contours are stunning. Toni dropped out of school at the age of 16 to pursue acting. Collette has appeared in almost 80 films and television shows. She has received numerous accolades and nominations (including for an Oscar). She also has a successful music career, having written and recorded a popular album, toured to sold-out venues, and performing at the Sydney Opera House. She wrote a book for youngsters. Collette, who is also a wife and mother of two children, is a worldwide ambassador for Ireland's Concern, traveling to nations such as Haiti and raising funds to help alleviate global poverty.
2. Samara Weaving
Samara Weaving is best known for her role as Indie Walker on Home and Away, but she has progressively built up her personal image outside of the iconic Australian soap over the last five years. She's been a red carpet regular, Bonds Youth Ambassador, got a profile in GQ, and even landed a Girlfriend magazine cover, aside from a couple of short films and Australian drama Out of the Blue. Samara has already proven at such a young age that she has a good eye for beauty trends and knows what looks best with her blonde hair and blue eyes (those eyes!).
1. Isla Fisher
Isla Fisher, Australia's all-time favorite actress, is ranked first. She strikes the perfect balance of witty wit and elegant beauty. Fisher is a Scottish girl who was born in Oman and immigrated to Australia when she was six years old. At an early age, she began her acting career by starring in television commercials. Her role as Shannon Reed on the cleaning soap opera Home and Away, for which she received two Logie Awards nominations, launched her into a celebrity. She was also named the most beautiful woman on the planet at one point in time.